A quick and removable camper kit for the iconic Russian off-road 4x4, UAZ 452 amicably known as the "Bukhanka" (bread loaf).
MATRIOSKA was born from three fundamental ideas:
1. A fast and removable camper kit.
2. Be easily stored in a mid-sized box that you can stow away in your garage.
3. Competitive price.
This led us to our design concept which was to design a camper kit for the UAZ Bukhanka that could very easily and quickly be mounted in the car by simply removing three of the 7 seats from the vehicle and mount our kit in the same place as the removed seats. The name MATRIOSKA comes because, once the kit is disassembled, the different parts of the kit fit one into the other and can so, all be stored in a small box. This allows the users to transform the Bukhanka into a camper van whenever they plan to travel long distances or go on expeditions. Instead, when the kit is stowed away in its box, the Bukhanka can be used as a regular city van with 7 seats. MATRIOSKA can be assembled in 99 minutes in addition to the time required for dismantling the 3 seats (21 minutes with the right tools). We estimate that in 2 hours MATRIOSKA can be easily set up... maybe less!
How MATRIOSKA was conceptualized...
The version that is presented (different variants can be designed according to customer needs) consists of a double bed measuring 120 x 200 cm which transforms into a dining table for 4 people with two comfortable benches on top of the storage containers. At the rear, after the bed, is a very functional kitchen with a large 65 liter fridge, a stainless steel gas hob with 2 burners and a sink with a concealed tap, a fresh water and gray water tank with an electric water pump and ventilated housing for the gas cylinder. On either side of the kitchen are vertical "pantry" towers, one of which accessible from the living area as well as two storage cupboards. Above the two storage cupboards in the aft corners, we have a shelf that, if necessary, transforms into a large camping table of 160 x 60 cm. Instead, in the bow of the cabin, we have a compartment that covers the rear of the engine box (which can be permanently mounted) and an additional storage compartment included in it.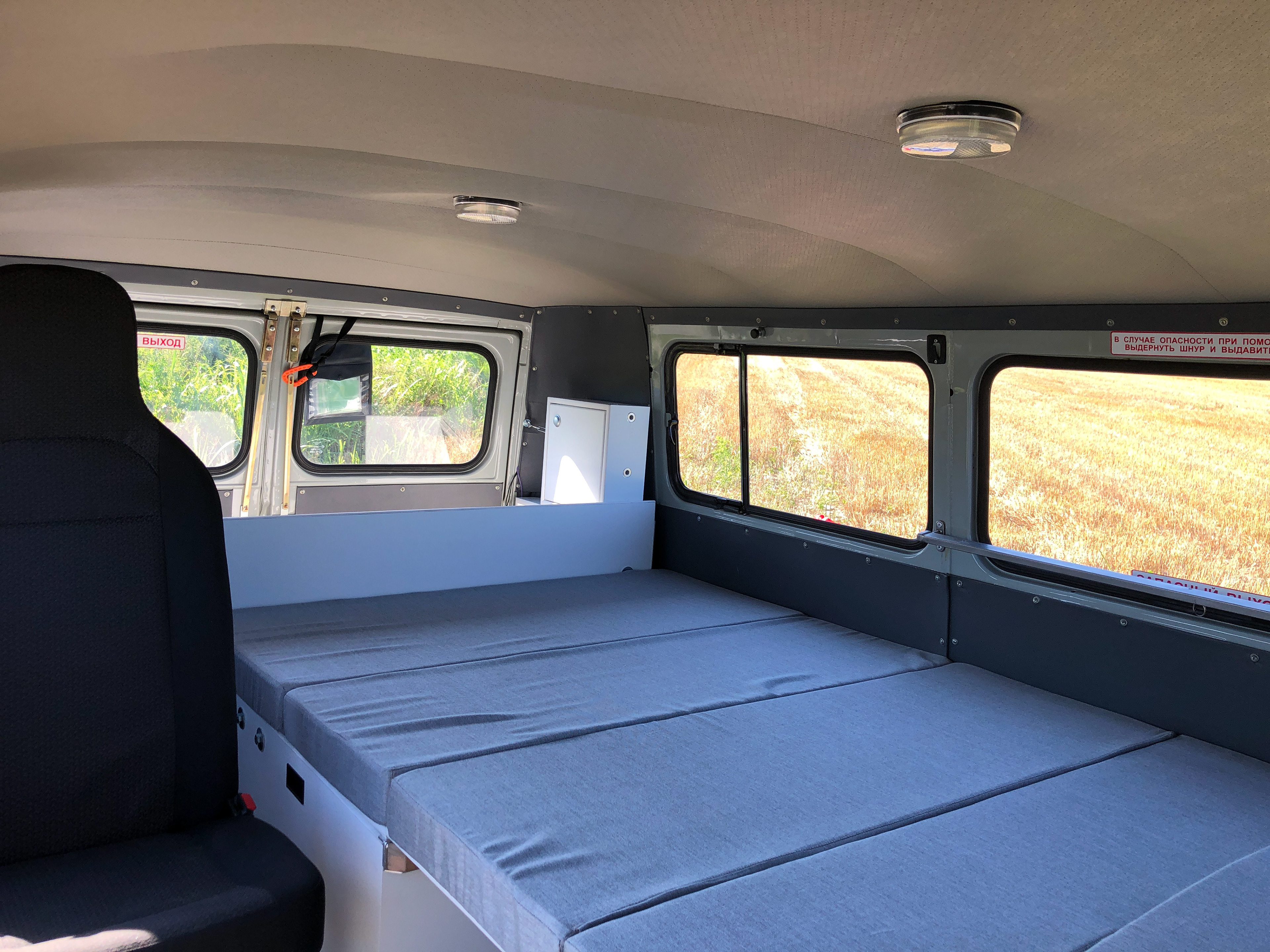 Once disassembled, the various pieces of the camper kit are self-contained and, with the special trolley included in the MATRIOSKA kit, excluding the fridge, occupies a volume of about 75x77x175 cm. With these dimensions, you can pass through almost every door and MATRIOSKA can be easily stowed in your garage.
MATRIOSKA can be customized with a wide range of colors, finishes and accessories.